Download Free PC Computer Games



Did you know …

Here in Panda Free Games you can download more than fifteen thousand (15,000) full free games to play on your computer in offline mode (without internet). We were the first site in the world with this fast download system of Unity 3D games, 3D Shockwave games and Flash games, divided into various game categories.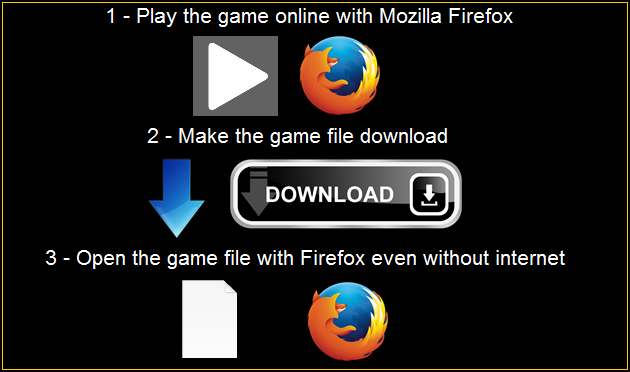 (simplified basic English texts for everyone-worldwide)
How to do:
The system is simple and more than 90% of our online games will be available for download. But 100% of the downloaded games can be played online and offline (without Internet connection), using only the Mozilla Firefox browser. Make downloads of the necessary programs and then download our games with maximum speed. This whole process can take between 5-30 minutes depending on the browser you already use, but also your knowledge about downloads and web transfers, and also the speed of your current internet connection. But we guarantee you will be satisfied with the time invested, because once you download a game, you be able to play and download other games very quickly.
Follow these steps:
1
- Start the whole process, noting already in any written document on your computer as Word or Notepad, the direct url of this page. This because, you may have the need to return to this page directly and save a lot of time doing this recommended action, therefore, copy and paste into a text document the following link/url/ direct address of this page: www.pandafreegames.com/pc/download
2
- The second step, is to create a new empty folder on your desktop, for where you can send all our downloaded games files. To never forget our site, you can assign the folder with PandaFreeGames.com name to this new folder created.

3
- If you don't have the Mozilla Firefox browser installed on your computer, you must download/transfer this browser to your compute ror MAC
https://www.mozilla.org/firefox/new/
and then complete the installation of it. Choose also to put an immediate shortcut for this browser on your desktop. This shortcut on the desktop will be indispensable to a step that will follow later and this is the unique browser that lets you play this games offline.

Information note: In Internet Explorer and Safari you can only play 60% of our games and the Chrome browser not allow the execution of Unity 3D and 3D Shockwave games. Because of this, Mozilla Firefox is now growing significantly in the number of worldwide users.
4
- But first, if you can not play these games online, also can not play offline. Therefore, this page already has to be read using the Mozilla Firefox browser. Check now if using Mozilla Firefox you can play all our games, one of our
Flash games
, one of our
Unity 3D Games
and one of our
Shockwave games
. This because, even if you have already installed these plug-ins and played all these kind of games, if you have already played this games but in another browsers such Chrome, Internet Explorer or Safari, this necessary plug-ins were probably installed inside the other browser you used before and not in the Mozilla Firefox.
The game pages have the necessary help to play all of our games using Mozilla Firefox.
5
- In the game page, if the game is available for download, you will find the button/image

to access to the final download page.
6
- In the final download page you can find a text link that you will use to download/save the game on your computer. Use the right button of your mouse for this action. Do not forget to save the game in the new destination folder you created on your desktop with PandaFreegames.com name.
7
- The game is already on your computer in the new folder you created PandaFreeGames.com and if you want, right now, you can change the name of the game/file you downloaded to the real game name or any other name you want to assign.
But how open the game file which you downloaded? Nothing easier, you can use the Mozilla Firefox's capabilities even without internet (offline).
(Explanation for Windows 7. Windows XP or Windows 8 may have differences in the locations, but the names/terms are identical and your actions must also be identical)
Step A
- Click with the right button of your mouse on the downloaded file/game on your computer. Then, depending on your version and language of Windows, there is a similar option to "Open With >" click it.
Step B
- Then another option (should be the last) with an identical name to "Choose default program ..."
Step C
- When performing this action will open a list of installed programs on your computer and more below find a text with a name identical to "Always use the selected program to open this kind of file" and the box next to this phrase it should be selected with a check to not have to repeat this process to open this game and other games of this type. And the right of this text, there will be a button with the same name "Browse ...", click this button.
Step D
- Then, find and click on the left menu the Desktop icon/button, after click it, at the right will open all folders, icons andexisting files on your desktop. If you did what we indicated above in point 3, on this master list you will find the image/icon/button of Mozilla Firefox shortcut that will need now to select it to open the file/game.
Useful notes after the game's opening process:
Now to open again this game or other downloaded games, if you selected the box with the identical phrase: "Always use the selected program to open this kind of file", now you can open this kind of files/games with a double-click on transferred file, you don't need to repeat all the opening steps explained above.
But beware, there are three different types of games on our website (flash, shockwave and unity) and therefore also three different types of files, in case of performing the download of a file type, you may have to repeat this process for the two other types of unopened games on your computer, always using this method. When performing this action for these three different types of files, you can open all three types of games with only two clicks on the downloaded game file.
Now, you can make a download of any game very fast and play the game without internet connection will be even faster, with only two clicks.
Additional help notes if necessary:

1 - By downloading, run and install successfully the 4 plug-ins (Adobe Flash Player, Adobe Shockwave Player, Supplements Adobe Shockwave, Unity Web Player) in Mozilla Firefox, now, for sure, you can play and download all of our games that are available for download.
But attention, in the game pages the help texts with links to Plug-ins downloads, will only begin the transfer/download or save the installation file on your computer

. After the transfer is fully completed, you should open the downloaded/saved game/file and follow the steps to run/install on your browser these transferred Plug-ins. The transfer/save/download of the file will never be enough if you do not start and complete the implementation and installation of this plug-in downloaded/saved.
2 - After complete successfully the download and installation of plug-ins, there might be alerts of blocked plug-ins and authorization to run them

, you should always give authorization/permission for these to run.
You can also choose to manually activate the "Adobe Flash Player"; "Shockwave Flash" and "Shockwave for Director" of Adobe Systems Incorporated and the "Unity Player".
In the Mozilla Firefox browser, to manually activate these plug-ins in, open a new tab of address bar/url website and type or copy and paste to the address bar/url the following text about:addons and then access it as you visit a normal website, to find Plugins and activate the Plug-ins listed above. After enabled/activated, reload the game page.
Please make stop AdBlock to continue visiting the best games site in the world. All advertising on the site is from Google, 100% safe and easy to identify.
Have you already paused AdBlock for this site?
Reload this page.